Day 2: Name your model or barn
'Have a go at naming the most recent addition to your herd by giving them a show name, stable name and pet name. As further ideas, why not do the same for your barn or stable yard and then make a barn tour video?'
I've already named my yard and most of its inhabitants, but I thought a yard tour might be a nice idea for a post. I don't have it all set out permanently so a video wouldn't be very easy to manage, but I can definitely show it off using the medium of photographs!
While all my Breyers and resins and Schleichs have is one prefix to cover them all, my Julips have a whole fictional riding school dedicated to them, which is as real to me as they are, after years of development.
Not only do they get a 1/12th scale world to inhabit, but a virtual 2D one too, as I show them in the Horse Art RPG (HARPG) on
deviantArt.
I'm working on a new and shiny website for EAE but for now you can look at the older and now outdated webs version
here
.
Located in a particularly picturesque region of the Scottish Highlands, we offer a wide range of services and facilities; whether you are looking for livery for your horse, cross country schooling or just fancy some relaxing hacks over the moors, we've got it covered. We also regularly host shows and events which are open to all levels of experience. Our friendly and knowledgeable staff are always on hand to ensure that your time at EAE is as excellent as we can make it.
Originally built in the 18th century, the old yard was burned down in a terrible fire during the 1930s and rebuilt about twenty-five years later. To begin with there was only the basic square block and the cottage of the yard owner but in recent years, Abigail, the current proprietor has extended it to include a large modern livery block (In the indoor 'American Barn' style) and a large outdoor sand school, with an indoor arena as part of the livery building. (although the feed room is still a very low-tech garden shed, next to the house!) The nearest village is Hollowcroft, located to the left of the map and not much further afield is the somewhat larger town of Cairbre.
The heather strewn hill in the distance is Dúneachann Hill - a popular place for hiking and hacking alike. Another interesting place to visit is Dúneachann Castle, the ruins of which are located in one of the yard's largest fields, just off to the right on this map, at the brow of the hill. On a clear day you can see right out to sea! The ancient standing stones - the 'Three Boars', Hollowcroft Moor's most famous landmarks, are clearly visible from the yard and are often visited on our moorland hacks.
----
(The main stable block is made up of two separate blocks, both made by 'Wolseley' They're very nice quality, but really take up too much space in my tiny room, so I intend to remake smaller versions at some point and pass these ones on to another collector. I got them both secondhand so they had a few bits and pieces missing and I've obviously customised them myself with signs and rosettes and stuff.)
The office, next to the tackroom, toilets and combined lecture room/living room (still to be made) is the hub of the yard, where lessons are booked, falls are recorded and yard maintenance, feed orders and shows organised. There is just enough space to squeeze in on a cold day, and an easily accessible kettle for a hot cuppa!
(Both the office and tackroom are standard MDF doll's house room boxes. Most of the furniture is cheap stuff I've accumulated over the years, or in the case of the sofa and blue striped chair in the middle, home made. The pictures on the back wall are a mixture of my own HARPG drawings and some by others, as prizes or gift art, in addition to posters and things I've found online and printed out.)
Next to the office, lies the Riding School Tackroom (the liveries have their own private one)
(Pretty much everything in here was made from scratch, although the saddle rack in the middle is a Magpie one)
Behind the schoolie block, and across from the outdoor arena, is the loading area. It's where horses new and old are taken in and out of the horsebox on arrival or for trips away from home. It's also a good place to mount up before lessons or hacks.
The yard horsebox can take two horses comfortably, and has plenty of room behind the cab for tack storage and grooming kits.
(This was originally an ELC (Early Learning Centre) horsebox which I gutted and repainted. The paintwork is really streaky though, so I'd like to redo it at some point.)
The feedroom is little more than a glorified shed, yet it somehow manages to contain more than enough food for all the residents, as well as offering a nice backdrop for the yard's ever growing collection of pet rabbits...
(I can't really claim credit for this one entirely - my dad made it for my mum years ago, out of balsa wood, but she's since switched her focus to Victorian era miniatures, so this became surplus to requirement...and thus, mine. XD)
The livery block is open plan, in the 'American Barn' style, with two rows of looseboxes and an aisle down the middle.
(I'm still not sure how I managed to make this so wonky, but its on my list of 'things to remake' when I have the time. It's mostly balsa wood, made in sections so the orientation can be switched round.)
As well as their own tack room, the liveries have access to a small wash stall with hose and a variety of grooming products, along with a solarium.
(I never showed this off properly as I made the walls from foamboard and they unexpectedly warped something terrible so I'll need to remake the whole thing. A solarium is definitely in the works as well though!)
As part of the enclosed stable block, the indoor sand school shares its red brick walls, and wooden fencing. There is a gap between the fence and the outside wall, so people can stand and watch the lessons, as well as a small seating area at the front.
(The indoor has had something of a refurbishment in the last year or so, as I wasn't happy with the old walls and fencing. This looks a lot classier and I love it a lot. The footing is 'motion sand' from ebay.)
The outdoor school is large enough for a showjumping course, but is mostly used for riding lessons and schooling.
(I really want to get a decent background for this as it really isn't how I imagine it)
Most of the fields are bordered by dry stone walls but we often rotate the grazing areas with electric fencing or temporary wooden panels.
EAE has a decent sized Cross Country course laid out amongst the fields and the woodland just beyond the yard, with both novice and advanced level obstacles to attempt.
Dúneachann Castle may be in ruins, but there's always been something distinctly spooky about it...
There are plenty of places to hack out, from wide open stretches of moor...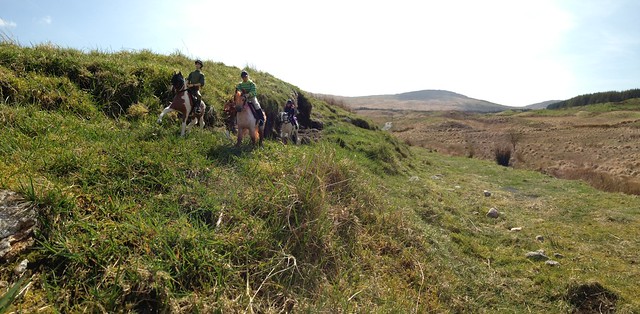 ...to deciduous and coniferous woodlands...
...lochs...
...and of course, the beach!
The coast is only a couple of miles away and many of our riders like to hack there and back in the summer for a ride on the beach and maybe a swim or paddle if the weather's favourable.
(In reality I only get to the beach once or maybe twice a year when we go on our family holidays to Dumfries and Galloway, so I always make a point of packing a handful of Julips to take advantage of the opportunity!)
So there you go! I've got lots of plans for future additions - including a cosy chillout room for the riders, with comfy sofas, a big TV and a kitchenette for quick meals, as well as a tack shop! I have plenty of motivation, just not nearly enough space!
As ever, any questions or queries I'll be happy to answer, just comment away below!